What does Alias ​​Concept 78 do?
The specialist domestic hoarding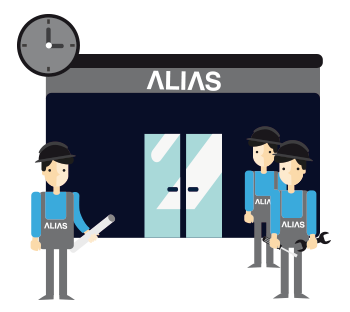 Alias Concept 78 is specialized in interior hoarding boards, especially in malls and on shops fronts.
Pending the opening or reopening of your outlet, hoarding boards allow potential customers to recognize your business and spot its location. It is an indispensable communication tool. We offer many graphic and decoration possibilities to reach out directly to your customers.
Alias Concept 78 provides multiple services: stand assembly, hoarding boards, creations, complex cut-outs. We are highly demanding in terms of quality.
Alias Concept 78 is a group of skilled professionals able to meet all the expectations of its clients.
On arrival of a new commission, we carry it out in full. No subcontracting takes place, from the carpentry to the installation of the hoarding boards: everything is done in-house.
This ensures your project will be managed by a qualified team and it will be implemented according to your requirements and current legislation.
The Alias Concept 78 idea
Aujourd'hui, Alias Concept 78 est une entreprise à part entière qui peut donc réaliser l'intégralité des projets demandés :
On site measuring
Creation of installation plans
graphics
printing
Joinery installation
Total covering/ decoration.
In complement to the digital printing company Alias Marquages, founded in 1999, Alias Concept 78 was created to allow a greater development of the hoarding board market in commercial spaces.
Today, Alias Concept 78 is an independent company that can take on all requested projects: assembly, installation, decoration and removal. Over the years, its expertise has expanded, and its experience allows it to create unique projects to promote your trade.
Our design studio has a state of the art router table. This enables the cutting of all media types, whether simple (posters, signs, etc.) or complex (boxes, suitcases etc.).
So if you have a communication project, you've found the ideal company. Alias Concept 78 will execute it to perfection by creating quality installations in the image of your company.
We hope we have been able to provide you with all the necessary information concerning our company, and that we will soon get to know your projects and create them. Do not hesitate to contact our team: we will be happy to answer all your questions or make an estimate, if needed. See you soon!