Alias ​​Concept 78 workshops
The carpentry workshop
In this workshop your interior hoarding boards will be made in the true sense of the term. For this, the carpenters use an indispensable tool: a Striebig panel saw. The latter is generally used in furnishings and store layout. It enables perfect and safe cutouts. There are two types of panel saw: vertical and horizontal. The first is usually found in small businesses and is used for panel cutouts. The second is a horizontal panel saw, often present in industrial carpentry workshops and fitted with bearings to facilitate cutting.
The workshop DTP / CAD
Here, our graphic designers team up to be fully at your service. They go all out to meet your requirements with expertise and advanced digital computing systems. The latest technology is used to design your graphics. All employees in this industry are trained regularly to keep abreast of advances in the field. Our aim is to master all services relative to digital printing. Please note that all "ready for press" proposals can be digitally signed from your place of business, in no time.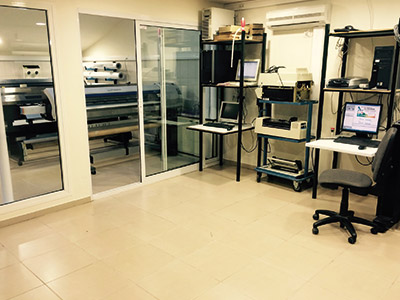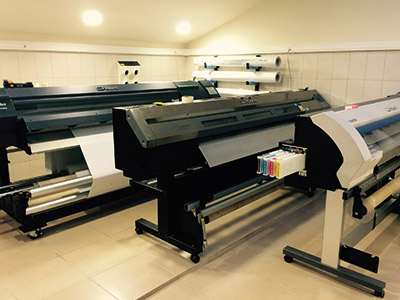 The workshop for multi-media printing, cutting / router table
This workshop houses the printers and copiers. These machines work non-stop to print your large format graphics on diverse mediums (self-adhesive vinyl, PVC etc.) A professional team is at your disposal to provide solutions and facilitate your projects.
We boast an Océ Arizona 480 XT UV flatbed printer. Its multiple features enable printing of rigid and flexible media. This machine has eight independent ink channels, with varnish for decorative applications, white ink printing, and a CM2 setup. It also includes pixel placement and an extra-large table bed of 2.5 x 3.05 meters / 98.4 x 120 inches. Our quality hardware will execute your project to the letter!
The VG TrueVis for print and cut
The TrueVis VG is the latest technology in the field of printing and cutting. Its state of the art printheads project drops of three different sizes, ensuring perfect quality, and an accuracy inimitable on the market. In addition, it can communicate with smart phones, tablets and other devices, allowing remote control. TrueVis new ink offers a wide range of colors with rich flat tints and shades of remarkable quality.
To demonstrate the quality and performance of this type of machine, here is a link to view an Oce Procut Digital Cutter printer at work: https://www.youtube.com/watch?v=6YW1m53RgUw.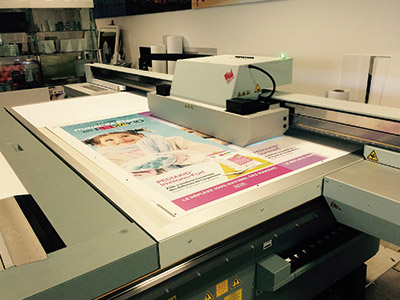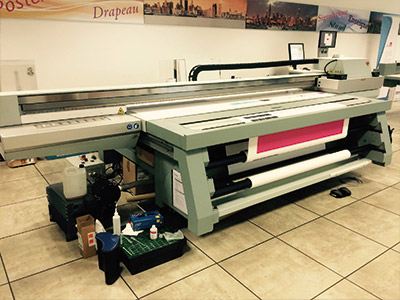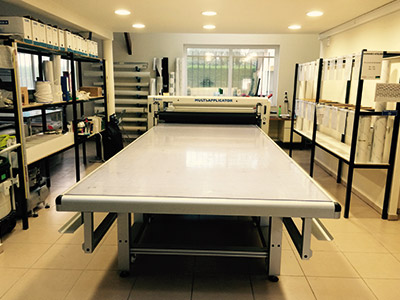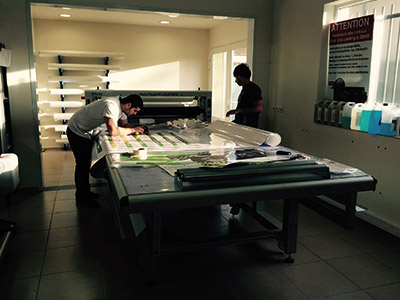 Our workshop is also equipped with a flatbed digital cutting machine, the GRAFITRONIKS Zund G3, a multipurpose brand. The product line is modular and supports mounting for up to three modules. This cutting machine offers the best value for money on the market today. One thing is sure, you won't regret your decision!
Alias Concept 78 can meet all your media cutting needs. Our workshop is equipped with a router table, enabling perfect cutting of display panels, supports or boxes in your company image. We remain at your disposal to answer all your questions and fulfill all your expectations.